A lot of energy goes into producing clothing. We're doing all we can to not let that energy go to waste. Having a wardrobe declutter? Recycling is a handy way to pass on clothing. Making sure your unwanted clothes go to a good home means the energy used to create them goes further.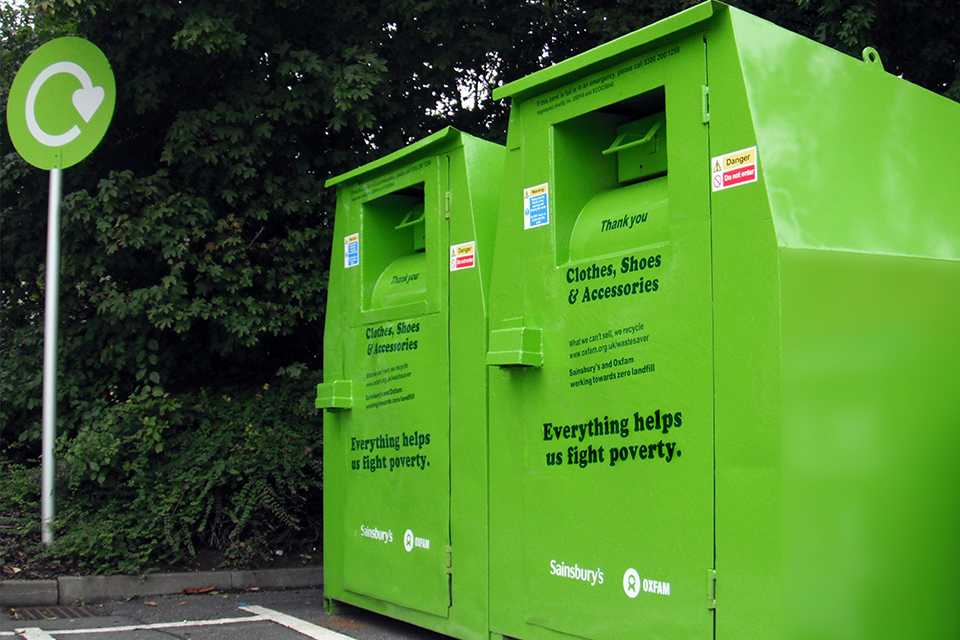 Recycling  with Oxfam
The average lifespan for an item of clothing is 3.3 years. Consumers send a whopping 336,000 tonnes of used clothing to landfill every year in the UK.

On average each year, Sainsbury's customers divert around 15 million items of textiles from landfill by donating their unwanted clothing in Oxfam textile banks, raising significant funds for Oxfam's work and providing a sustainable option for clothes recycling.

"Many people still think that their unwanted clothes won't make a difference to charities, but at Oxfam we can reuse or recycle almost any garments. The items donated by Sainsbury's customers raise millions, helping us continue our vital work to end extreme poverty around the world."
Fee Gilfeather, Oxfam Sustainable Fashion Team
What can be recycled?
Customers can bring any clothing, shoes or accessories – good quality or worn out – to Oxfam textile banks on over 340 Sainsbury's sites.
What happens to the clothes that get recycled?
Nothing goes to landfill. Oxfam regularly collect donations and they are then either resold in Oxfam shops, online or at festivals. They are also reused in Frip Ethique, Oxfam's social enterprise scheme in Senegal or in other countries around the world. If they can't be reused, they are recycled into things such as mattress filling or carpet underlay by working with reprocessing companies. To find out more about Oxfam visit www.oxfam.org.uk.

Oxfam is a registered charity in England and Wales (no 202918) and Scotland (SC039042). Oxfam Ireland is a registered charity in Ireland (no. 2000946) and Northern Ireland (no. CHYXN 89651)
Recycling  with Newlife
Newlife is the UK's largest children's charity provider of specialist disability equipment and has helped more than 22,750 children since the charity began. Its Equipment Grants Service ensures that the right equipment is provided at the right time. Newlife also runs the UK's only Emergency Equipment Loan Service, loaning essential equipment to children in urgent need anywhere in the UK in just 72 hours. Newlife also:
runs a free nurse helpline which gives families confidential support and information,
provides free loans of specialist toys in Play Therapy Pods,
has invested more than £15 million in medical research into the cause, prevention and treatment of birth defects,
and campaigns for the rights of disabled children and their families.
Newlife supports thousands of disabled and terminally ill children across the UK, as well as ensuring items don't end up in landfill and are recycled responsibly. By sending any damaged or unsold items to Newlife to be resold or recycled we can help to raise money to fund the charity's core charitable services. Items are sold in one of Newlife's seven stores across the UK. If the products can't be resold they are broken down to the raw materials so that they can be recycled or reused for a different purpose, where possible. All items donated to Newlife are saved from landfill, helping the planet by decreasing the amount of waste, recycling as much as possible and selling items for a great cause.

Sheila Brown OBE, co-founder and CEO of Newlife, says: "Sainsbury's care about people and the planet, and are invaluable in supporting Newlife to help change the lives of thousands of disabled and terminally ill children."

Every penny raised in Newlife's stores goes directly towards changing the lives of disabled and terminally ill children. To find out more about Newlife visit www.newlifecharity.co.uk.
Newlife the Charity for Disabled Children - Registered Charity Number: 1170125 in England & Wales